Whew. I'm treating an eggbound hen now, and I'll post

when I have time. She's in an exercise pen in my basement laundry space, and improving. I've used the lecture material in this video to treat her. I hope we get a happy ending! She had a too-big egg and after 12 hours neighter she nor I could get it out, so I perforated the tip. She is a sweet hen, allows me to pick her up and to bathe her ( not using the steam method) and I'm really hoping I get this right.

http://www.5min.com/Video/How-to-treat- … I-20017091

When I found my eggbound hen she had hopped out of the nest box but did not greet me with the others, preferring to stand when she had landed. Later she moved slowly to the porch of the coop where it is quiet and where the others could not show interest in her rear. When things settled and I examined her, it was clear they had pecked away some bloody feathers and had attempted to break the egg. At this point I decided to oil the vent circle around the egg, which was protruding by about 1/6. What I did not know, and should have tried, is that I could have used KY jelly, vaseline or saline solution on a Q-tip to slowly roll back the edges of the bent circle, being sure to keep it moist. Then there is a spot you can alternately press and release (see video) in an attempt to get the egg out. I gave her a while to produce the egg (my error) to no avail.

The next step would have been to perforate the tip of the egg with a wide-gauge syring needle to withdraw the contents, allowing the egg to collapse on itself. Instead, not having one, I wiped a scissors-tip with alcohol and broke the tip. It would have been so much better to syringe out the contents. By then I had set up a dog cage in the coop for her (see photos). I was able to get about 1/4 of the shell with forceps. Would have been nice to get it all. My knowledge base was far too limited (first-timer). At any rate she drained and the egg must have broken into a smaller mass because urates and other waste, backed up behind the egg, began to drain. I kept hoping for the rest of the shell, but I think she was too tired.

At this point she is in an exercise pen at the house with a pet carrier as a nest box, and I have given her one shallow belly bath, which she liked very much. The hard part is getting them dry. I used a thick towel then a hair dryer, and you have to be careful not to burn the hen. Her behaviour was excellent and I plan to bathe her again today.

Another thing I didn't know was to continue layer feed, possibly moistened or mixed with yogurt. I had wrongly assumed that calcium in that amount was bad but apparently the tired muscles need it to expel shell. I had been feeding wild bird suet to lube her insides (she love this), a few leafy greens and mixed seeds.

It can take a day or a month to get the shell. Wow. I'm on Day 3 and hoping. I'm seeing urates, a tiny bit of manure and some albuminy substance dripping from her. She does not smell bad, but I have put her on Super-Booster powder in her water in case of infection (penicillin and vitamins). I have no idea how this will end, but she is not in as much pain and is eating sparingly and drinking lots.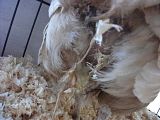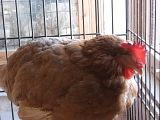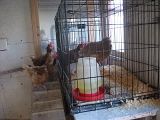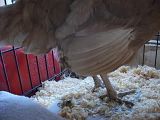 Update:

I found the egg, it must have slipped up the oviduct before, but it dropped back down and I've gone in the hen three times with a gloved lubed finger (vaseline) and hooked upwards through the dividing wall of rectum and oviduct and broken it down. No blood, the shell felt flimsy and crackley.

She's a bit better, eating small amounts and making proportionate manure and draining. No blue in her comb though I would like to see it redder. Drinking rate is closer to normal. She likes boiled egg, wild bird suet and a little pellets and greens, with ground limestone provided, which she is taking. The vent is not sore any more and I'm bathing her once a day to stop the urates from stinging her skin. Her activity is still not what I would like, she is still getting Super Booster ( penicillin and vitamins) and there is no bad smell. She's lost some weight but is not too light, yet. The battle now is to prevent peritonitis, I think and to get the crushed shell out without damaging the membranes. She is grooming again and after a bath and towel-drying likes to be put in front of the ceramic heater so she can groom in the warm air stirred by the fan.

It's hard to believe what we will do for our hens, I didn't think this skill set would be needed so soon and I hope it is never needed again but at least I'm learning. It's too cold to give her exercise in the coop and I'm leery of carrying potential infection into the flock, so if she is still draining in a few days when it's warmer I'll bring her down and put her in a dog cage alongside the hens for the social benefits.

Since it's my first time with an eggbound hen I can't tell how I'm doing.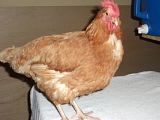 Another update- Hen was without goop today and had made several 'normal' looking droppings overnight. Cloaca is clear of debris. She has some urate hardened under the vent, but I wiped most away with a clean wet rag and brought her in a pet carrier to the coop after feeding her fresh greens. I'm not saying she is out of the woods, but after the best part of the week away from her sisters she needs to return to some kind of a social position. She called to them on the way to the coop and some answered. I expect the social positioning to be sorted, nothing dangerous going on and she is submitting to ceremonial pecking from the most dominant ones. I'm going to lube her vent with vaselineor maybe KY gel over the next few days and watch her closely. I'll give Super-Booster by dropper. Here's hoping...will she lay, will it be all right?

Second day in coop- Only 2 hens bothering her and neither dangerously. Drinking, eating very little, making normal-looking droppings but small. Still getting Super-Booster. Prefers to be alone but other hens quietly visit. She is in the coop porch by choice, resting largely, though she is able to run and jump. My guess is conserving energy. No goop, but will need minor clean-up of stuck urates with a baby wipe and I'll vaseline her vent this evening again. Like to have me check her and offer liquids in a small cup. She has always liked me to fuss over her. Comb is erect but slightly pale, she seems well-hydrated. Bit of a journey yet to take, is my guess.

June 22, 2010- This has been a long haul, Golda looks good and is beginning to lay again. Eggs are wonky shapes but I am hopeful...

Hen is active and has resumed her place in the flock!